LIVED EXPERIENCE GUIDES THE WAY
We understand that people experiencing homelessness, while struggling with addiction, want help but lack opportunities to access help relevent to their challenging circumestances.
Compassionate Addiction Treatment is committed to removing barriers to care and providing wholistic opportunities for recovery from substance use disorders.
Led by people with lived experience
Compassionate Addiction Treatment (CAT) works toward health equity, and strives to provide opportunity to access recovery and supportive services in an innovative, trauma informed environment.  Certified Peer Counselors, through their own lived experience, are at the center of all that we do.  
An Advisory Board, made up of people who are or have experienced homelessness while searching for opportunity for Recovery from addiction, provide guidance and insight to attain our mission.  Recovery Community members' self-advocacy is encouraged and supported through participation on the Advisory Board.
The team at Compassionate Addiction Treatment is representative of the people we provide services to.  Approximately 90% of our team are in recovery, and more than 70% of our team have experienced homelessness.  Collectively we represent that we do recover.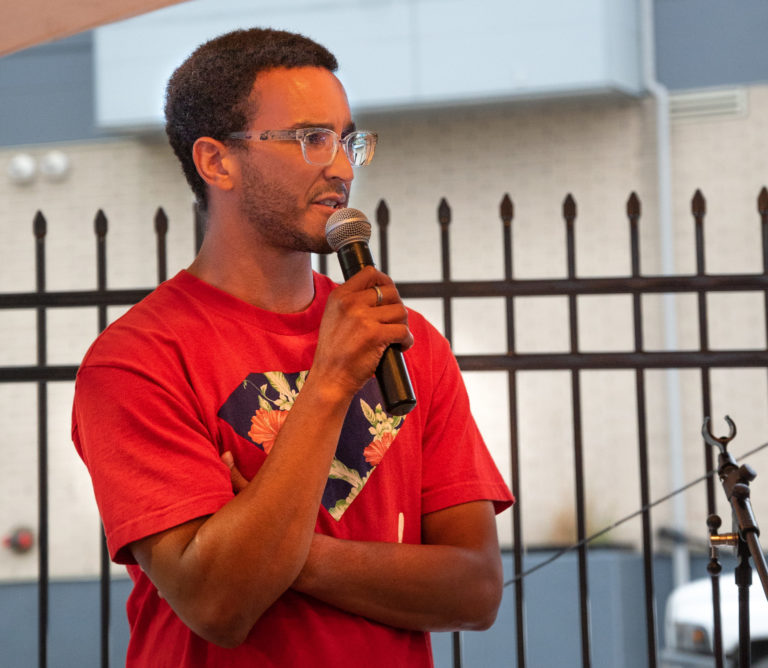 Our mission is to provide compassionate, holistic care to people suffering from substance use disorders in a safe and therapeutic environment. Focused on removing barriers to treatment, people will be empowered to engage in recovery and live life to their fullest potential.
Bringing community connection to support the building of trust, hope and personal empowerment to people experiencing houselessness, combined with addiction, are primary goals of CAT.
We envision a world in which people experiencing homelessness can work towards their personal goals of housing and healing, free from stigma.  In this world we envision, support, compassion, and encouragement from our community as a whole decreases the challenges faced while homeless, allowing people to more rapidly stabalize and have the opportunity to live the life they dream of.
Hallie Burchinal (a co-founder and Executive Director) shares her story of living houseless as a teenager, and experiences that led to the creation of Compassionate Addiction Treatment. Event: march for Humanizing Homeless. April 24, 2021
EXECUTIVE DIRECTOR, CO-FOUNDER
Hallie is an Substance Use Disorder Professional with a variety of work experiences in inpatient with pregnant and parenting women, outpatient with teens, and working on the streets with people who have recently overdosed.  Hallie is passionate about harm reduction, meeting people exactly where they are at, street outreach, and supporting all paths to recovery.  As a previously unhoused person, Hallie has a strong understanding of the importance of hope and community, and is committed to the Recovery Community at CAT.
OPERATIONS MANAGER, CO-FOUNDER
Kel is a Community Health Worker, and a retired veteran with the Air National Guard.  Kel has long had a dream of working with people struggling with homelessness, and has refocused her passion for helping people.   Kel began working with parents who suffer from substance use disorders that were working towards family reunification.  She then worked at an emergency warming center, providing safe space for our community members who are living houseless.  Kel states "I look forward to using my knowledge to improve the lives of others, and having a positive impact on my community."
Sandy came on board as our Front Desk Manager in the spring of 2020.  Now a Certified Peer Counselor, Sandy has stretched her skills as a skilled housing and employment case manager, and recently moved into the role of Executive Assistant.  Through lived experience and her ability to think outside the box to find solutions to challenging circumestances, Sandy brings so much to our Recovery Community members and team.
MEDICAL DIRECTOR AND MAT CLINIC PROVIDER (VOLUNTEER)
Dr. Mainer has volunteered at Compassionate Addiction Treatment since the winter of 2019.  Through his supportive leadership and compassionate care, the Medication Assisted Treatment program is an essential part of the low barrier Recovery programs at CAT.
MAT CLINIC PROVIDER (VOLUNTEER)
Dr. Lemberger was one of the first Suboxone prescribers in Spokane and brings years of experience to our team.  Working with Compassionate Addiction Treatment for the past two years, Dr. Lemberger brings knowledge and compassionate care to people with opioid use disorder and supports low barrier care to our community members who are experiencing homelessness.
MAT CLINIC PROVIDER (VOLUNTEER)
Stacey has been part of the team at Compassionate Addiction Treatment since early 2020.  Stacey's care for people seeking recovery for opioid use disorder while experiencing homelessness is supportive and thoughtful.  Stacey has worked in other impactful programs within the community as well, and is committed to the health and well being of all.
Rachel began working at CAT as a Certified Peer Counselor.  She then managed the front desk with calm, grace and humor.  Rachel has now stepped into the role of Team Coordinator, supporting her team throughout each day.  Rachel's skills as a peer counselor help to create a welcoming, trauma informed environment from the time a person enters Compassionate Addiction Treatment, until they leave for the day.
Christine joined the team at Compassionate Addiction Treatment in the spring of 2020 and helped shape our peer led Recovery Community day program.  Christine uses her lived experience of greif, trauma, recovery and healing, to support others on their path to recovery.  She fearlessly models what self-advocacy and compassion can look like.
CERTIFIED PEER COUNSELOR – MAT CLINIC PEER COUNSELOR
Bobbie Lee brings with her an inspiring story of her recovery from trauma, homelessness, and addiction.  With a fiercely compassionate heart and commitment to both trauma informed care and harm reduction, Bobbie Lee provides support to everyone she encounters at Compassionate Addiction Treatment. 
CERTIFIED PEER COUNSELOR – CARE NAVIGATOR
Lakotah is a Certified Peer Counselor as well as a licensed cosmotologist.  Helping people feel their best through his joyful personality, as well as his cosmotology skills, Lakotah helps people feel seen, heard and valued with his skills and training.  Lakotah currently works with the Hub and Spoke in Spokane, where he wholistically navigates people with opioid use disorder to any services they may need, from clean clothes, a doctor appointment, emergency stabalization or shelter.  They may also show up to their next destination with a new hair cut.
Jamie joined our team through Career Path Services.  We couldn't imagine Compassionate Addiction Treatment without her, so she came on board as a full-time team member.  Jamie brings lived experience and a determination and will that is unsurpassed.  She also has a unique skill in knowing where all things are at any given time.  
LEAD SUBSTANCE USE DISORDER COUNSELOR
Susan has worked in residential settings for women, supporting recovery and providing trauma informed care.  She brings these skills to Compassionate Addiction Treatment and helps create a program that is focused on the Seeking Safety model of treatment.  Susan's committment to our Recovery Community is inspiring to witness.
SUBSTANCE USE DISORDER COUNSELOR TRAINEE
Estene is originally from Spokane, but had relocated to the west side of Washington state.  She returned to Spokane to become a team member at Compassionate Addiction Treatment.  Estene brings a gentle nature, thoughtful presence, and a knowledge of recovery that touches each person she meets with.
SUBSTANCE USE DISORDER COUNSELOR TRAINEE
Sarah Love brings compassion and intention to all aspects of her work at Compassionate Addiction Treatment.  Through lived experience and strong counseling skills, Sarah supports each person on their unique path to recovery.
HOUSING AND EMPLOYMENT CASE MANAGER
Foundational Community Supports
Tiffany came to us with years of experience working in housing and employment case management.  She then completed training to become a Certified Peer Counselor, to add to her skills. With her solid community connections and abiltiy to create collaborations to facilitate  and support people in meeting their housing and employment goals, Tiffany helps create results.  Her sense of humor helps make the journey fun.
HOUSING AND EMPLOYMENT CASE MANAGER
Foundational Community Supports
Lindsey previously worked as a Spoke Care Navigator providing support to people with opioid use disorder.  With her strong navigational skills and her dedication to supporting each person in thier housing and employment goals, Lindsey has great success in helping people gain housing and employment. The caring and thoughtful way in which she works creates an environment of trust and hope.
LEAD PEER NAVIGATOR
Camp Hope
Skye joined Compassionate Addiction Treatment because she has a deep caring for people experiencing oppression and especially for those who are experiencing homelessness.  Skye has experience with housing navigation, and brings with her determination and compassion to help individuals gain housing and exit the many struggles that living outdoors brings.
Compassionate Addiction Treatment is lucky to have had Ledia join our team.  Ledia brings lived experience, compassion and pure grit to our team.  Her dedication to helping the men and women at Camp Hope is obvious in all that she does.  Ledia reaches out to anyone in need, and navigates folks to needed services while supporting them on their journey to having a home.
Camp Hope holds a lot of meaning for Suki. Once staying at Camp Hope', Suki now works with passion and commitment to help other's exit homelessness. Suki brings lived experience and her contagious positive energy to work with her every day and spreads hope throughout the day. We are lucky to have Suki as part of our peer naviation team at Camp Hope.
Emily worked for five years as a hospital laison for the sobering unit.  This work, primarily with people experiencing homelessness provided many opportunities to navigate individuals into needed services.  Emily brings these skills and lived experience, as well as an amazing amount of compassion, to her work at Camp Hope.